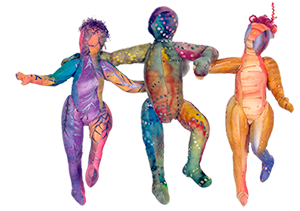 Susan teaches at museums, art centers, and conferences. To schedule a workshop or lecture, contact her at susan@susanelse.com.
See her schedule for upcoming engagements.
Workshop Instructor Fees, 2016: $650 per 7-hour day, plus student materials fee, which varies by class and location.
Lecture Fee, 2016: $500
Workshops
Workshops are geared to intermediate skill levels. Students bring sewing machine and basic notions.
People, People, People! (2 or 3 days)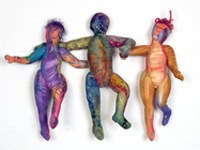 Learn Susan's unique process for creating believable human figures in fabric, as well as ways to add gesture, movement, and interaction. (This class can also be offered in a multiple-day format.)
Beasts in the Jungle (2 or 3 days)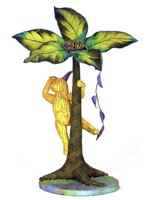 This hands-on workshop explores techniques for making organic 3D forms in fabric, from vines and flowers to outrageous animals. To allow students to experience the process of making a complete three-dimensional landscape, we pin our individual class samples together to make a collective jungle scene, photograph the result, and then, at the end of the workshop, un-pin the diorama and take our samples home.We explore the use of color, value, and scale to enhance the depth of a piece, as well learning to create gesture, form, and movement in fabric.
Large Scale Figures in Cloth (5 days)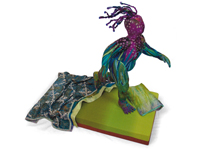 Follow Susan Else into the wild world of figurative cloth sculpture. Here color, pattern, gesture, emotion, and narrative work together to create a vibrant universe of engaging and evocative quilted people. In this class, each student makes a unique fabric collage and uses it to create a quilted 3D figure roughly 20" tall. In the process, students learn to design and create their own figures.
Let's Make a Village (5 days)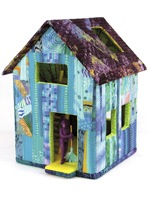 This workshop begins with Susan's basic methods for making people and architecture, including the use of quilted fabric collage. For the rest of the time students continue to create figures and buildings, eventually assembling a whole village from their individual samples. As in the jungle class, we photograph the collective diorama we've made, and then take our individual samples home. Making a complex landscape takes weeks or months for an individual artist, but students engaged in this cooperative endeavor get a sense of the entire process, as well as learning to convey interaction between figures.
Beasts Galore (5 days)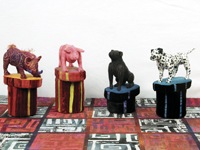 This workshop explores techniques for designing and making 3D animals in fabric, from crazy monsters to more domestic critters such as goats and cats. Students also learn to apply a quilted collaged surface to larger animal figures.
Lecture - Off the Wall: Quilting in Three Dimensions
California artist Susan Else uses collaged and quilted fabric to create unusual sculpture. Ranging from wry comments on everyday life to wild imaginary scenes, her work adds a new dimension to the usual flat format of art quilts. Her engaging, vibrantly colored work includes free-standing figures as well as three-dimensional dioramas. Built around armatures of foam, wire, and fiberfill. Recent work often incorporates motion, lighting and sound.
In this lecture, Susan explores how sewn cloth differs from traditional sculptural materials such as clay and metal, and she describes her own metamorphosis from quilt-maker to sculptor. Although she never expected to become an artist herself, Susan grew up in a family of artists who shaped her personal vision. After "fooling around" with fabric and fiber for twenty years, she started making quilted sculpture in 1998. In addition to one-woman shows, she has participated in many travelling exhibitions, including Quilt National. Her work is in public and private collections throughout the U.S.
To schedule a workshop or lecture please contact Susan at susan@susanelse.com.