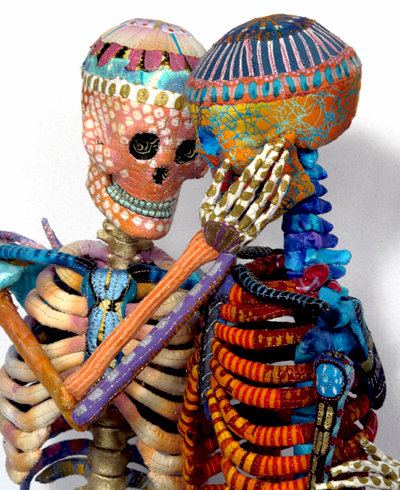 Susan Else creates sculpture out of collaged and quilted cloth, capturing the gamut of human emotions, routines, dreams, and realities in her work.
I treat cloth not as a flat surface but as a wild flexible skin for three-dimensional objects. My work has developed in tandem with the art quilt movement, but I am one of the few artists making figurative sculpture in this medium. My recent work often incorporates sound, light, and motors. I use cloth to create an alternate universe, and the resulting work is full of contradictions: it is whimsical, edgy, mundane, surreal, and engaging, all at once. Each piece tells a story, but the narrative is always open to interpretation. The power and beauty of the patterned cloth surface play off the form and content of the work, and the result is a dynamic seesaw of meanings and possibilities.
I started this work in 1998, when I added 3D elements to a flat art quilt. I have shown nationally and internationally since then. My work is in public and private collections, and I have completed many commissioned pieces.
For additional information on pieces, to inquire about commissions and presentations, or to reach Susan, please send an email to: susan@susanelse.com.
Follow Susan on Instagram
Follow Susan on Facebook