Recent Pieces
1 work
See examples of the most recent work.
View series →
Ordinary Life
11 works
Here is how we spend our time, in all its humdrum glory.
View series →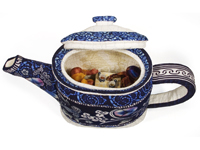 Teapots
5 works
These pieces encompass the cozy, the frightful, and the unexpected. They use interior lighting; Tiger Tea is mechanized.
View series →
Things That Move
4 works
These pieces are motorized (with light and sound effects, as well), or intended to be handled and reconfigured.
View series →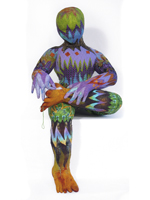 Big Figures
5 works
These larger figures create identity out of collaged and quilted cloth.
View series →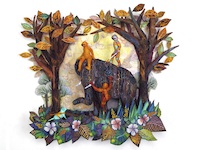 Bent Fables
4 works
When my brain goes sideways through established folklore, this is what emerges.
View series →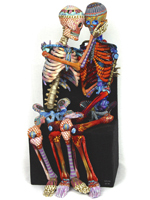 Mortality
4 works
This series conflates opposites: joy and grief, cloth and bones, the fleeting moment and the ultimate end.
View series →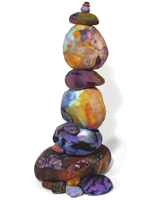 Stones
4 works
A soft and rocky tour-de-force, this series shows the human hand---without the humans.
View series →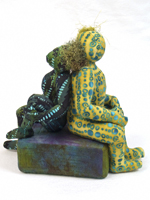 Small Work
6 works
These smaller figures capture the gesture and whimsy of the larger pieces without the quilted and collaged surface.
View series →