Announcements
The Circus is Travelling!
Lights, motors, and sound go on the road! I'm excited to announce that my installation Without a Net will be shown at the Canton Museum of Art in Ohio, November 22, 2023 to March 3 2024. This ten-piece exhibit explores the dualities of the traditional circus and sideshow, and it will be mounted concurrently with the museum's exhibition of Quilt National.
Open Studios with Janet Fine in Santa Cruz this October
Image-based mixed-media artist and good friend Janet Fine (Instagram: fine.jo) will share my Open Studios space in October. Not only does our work play well together, this joint show has finally spurred us to embark on a long-discussed collaborative piece. If you're in the area, come visit us!.
With Kris Sazaki and Deb Cashatt in Folsom in 2023
The Gallery at 48 Natoma is a big space, but Kris Sazaki, Deb Cashatt (also known as the Pixeladies), and I will be filling the gallery with work this winter. We're calling the exhibit Commentaries in Cloth, because social and political commentary is a focus of the Pixeladies' work as well as my own. I'm sure the gallery staff will come up with some intriguing pairings of our work, as we explore similar issues from different angles. Come see for yourself from January 27 to April 6, 2023.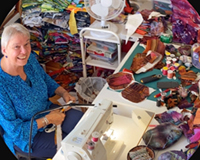 Photo by Janet Fine